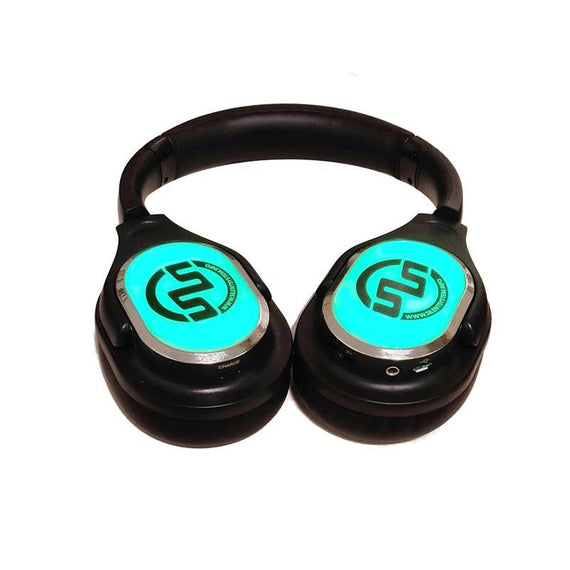 5 SX553 V1 Headphones [R] + TX400 Transmitter (mic)
SILENTSYSTEM KIT COMPOSED BY:
05 SX553 V1 HiFi Silent Headphones - Refurbished / Ex-demo

01 TX400 Mobi Transmitter (portable, microphone) 

01 ARCHX2 Headset Microphone

01 USB Cable 4 Pin

01 USB Cable 1 Pin
SX-553 V2 HiFi HEADPHONES FETURES:
High Fidelity 40mm Mylar Spakers

Wireless Headphones for silentevents. Up to 5 channels
RGB LED Lights shoes the selected channel. HIFI 

Audio

. Foldable Headphones.
Adjustable Headband. Volume Control. Channel selector.  
Soft faux leather ear pads for the best comfort

650 mAh Battery
S / N 

> 75 dB 

THD: <1%

Frequency Response: 25 - 20.000 Hz
TX-400 MOBI TRANSMITTER FEATURES:
Perfect for traveling activities, such as fitness, yoga, walking. Also ideal for museums, guided tours and conferences. Integrated microphone and digital mixer.
AUDIO: input 3,5 mm AUX
MIC: M

icrophone input is included with the transmitter

Range: The transmitter covers a distance of 70/100 meters in open field
INCLUDED WITH THE TRANSMITTER:

- Rechargeable AA batteries
- Headband microphone
- AUX cable
- Carton box

SYSTEM CONDITIONS:

Headphones: refurbished / ex-demo
Transmitters:  new  
Charger:  new 

WARRANTY:

12 months warranty with Swap Repair option, included in the price

ACTIVITIES:

silentdisco, silentparty, conferences, concerts, guided tours, translation, discoteque, cinema, theatre.

SILENTSYSTEM | Keep The Frequency