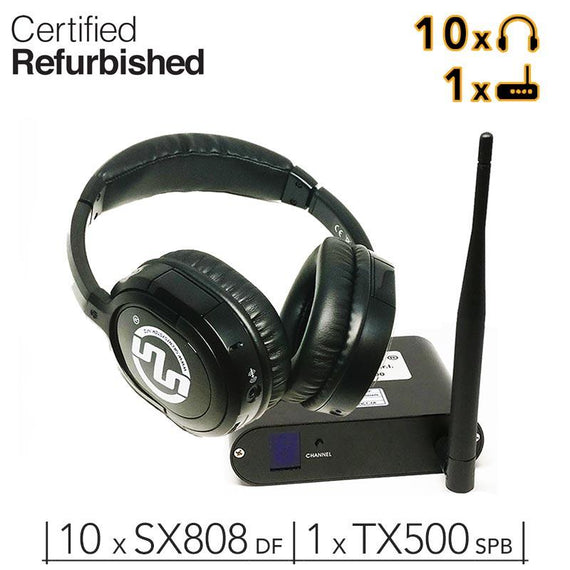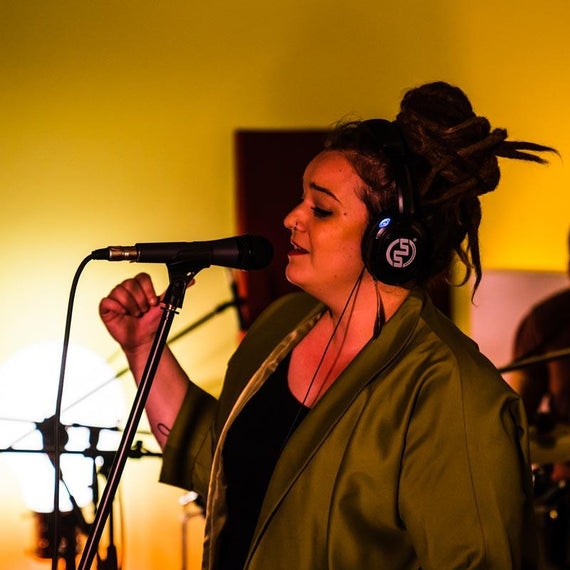 10 SX808 DF Headphones [R] + TX500 Transmitter [R]
SILENTSYSTEM KIT COMPOSED BY:
10 SX808 DF Headphones 

- 

Refurbished Ex-demo

01 TX500 Transmitter Super Power Bass 

- 

Refurbished Ex-demo

01 CHX12 Multiple Charger
SX-808 DF HEADPHONES FEATURES:
Wireless Headphones for Silent Events.
3 channels system.

Small LED lights indicating channels.

Linear EQ

Large pads.

Adjustable headband.

Volume Control.

Channel Selection.

Soft Eco-leather cushions for the best comfort,

500 mAh Battery

S / N > 75 dB

THD: <1%

Frequency Response: 30 - 20.000 Hz
TX-500 SPB TRANSMITTER FEATURES:
RF Transmitter For Silent Disco & Parties
Three Channel System
Quick and simple installation
For indoor and Outdoor Use
Designed for Silent Party, Silent Meeting, Silent Concert
Switch to select transmission channel
Up to 500 Meters of Action
S/N Ratio > 75 dB

Distorsion < 1%

Audio input 2 RCA
Double PLL System for Frequency Stability
Frequency Response 30-20.000 Hz
Power Supply DC12V 
Perfect for DJs, musicians, and activities that don't require System portability. RCA audio input and channel selector on the back.

AUDIO Input: RCA (left / right)
RANGE OF ACTION: 500 meters in open field
INCLUDED WITH THE TRANSMITTER:

Antenna

Power Supply
Case
SYSTEM CONDITIONS:

Headphones: - refurbished ex-demo
Transmitters:  - refurbished ex-demo
Charger:  new

WARRANTY:

12 months warranty with Swap Repair option, included in the price

ACTIVITIES:

silentdisco, silentparty, conferences, concerts, guided tours, translation, discoteque, cinema, theatre.

SILENTSYSTEM | Keep The Frequency